home page - Product Description -

messageม
sanitary napkin machine price in kolkata thermocol machine:How an ordinary electrical wireman went on to build a Rs 30 crore turnover company
sanitary napkin machine price in kolkata thermocol machine:How an ordinary electrical wireman went on to build a Rs 30 crore turnover company
  At 58, Ramdas Mansingh Mane, CMD of Pune based Mane Group of Companies, helms an empire that has an annual turnover of around Rs 30 crore.
  Employing close to 10,000 people, he manufactures and exports Expandable Polystyrene (EPS) thermocol and thermocol machinery. Around 80 per cent of the thermocol machines in India are supplied by his company.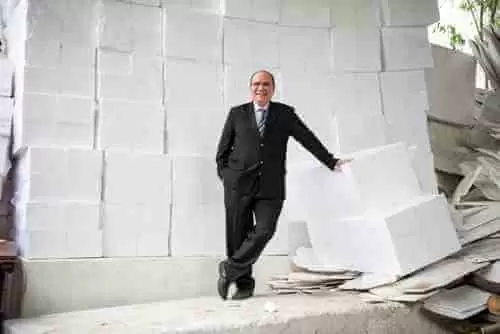 Ramdas Mansingh Mane completed a course on wireman training, but destiny had other plans for his life and today he helms a Rs 30 crore turnover business (Photos: Manoej Paateel)
  But the irony is that there was a time when his biggest ambition was to score a job of a peon in the local school.
  "I was good at studies but had no guidance as to what to do in life," shares Ramdas with a laugh. "So I applied for a peon's job after completing my SSC!"
Born in a small village, Lodhawade, in Satara, Maharashtra, his journey has been one of steady growth. After completing his schooling at local schools in Satara, he wanted to study more but had no financial support.
  "I used to work at farms and get bothered by the heat – this is why I wanted the peon job because the government school had electricity and there was a fan," says Ramdas.
  In 1975, after his SSC, he went to Janardhan Lohar, an elder in the village, to try and get the peon job but Lohar advised him to train as a wireman instead.
  "He told me the whole village was going to get electricity soon and a wireman course could prove beneficial," recalls Ramdas. "I remember those days when we got electricity for the first time… villagers were fascinated at how with one switch a bulb lights up…!"
  He applied to Satara Industrial Training Institute for wireman training and got admission easily. It was far from his village and he had no money and no place to stay so, for the first night of his course, he stayed at the state transport bus stand near the college.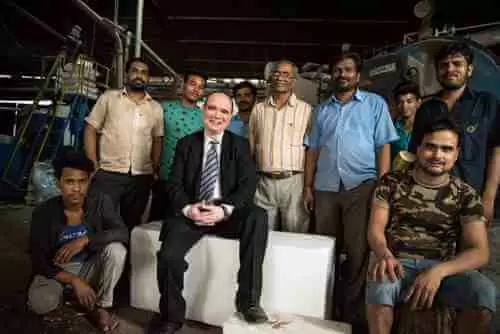 Mane with some of his employees at his plant in Pune
  "Then I heard that Mr Shetty, who owned the canteen at the bus stand, was looking for a helper and I got hired at Rs 4 per month and started staying there," he shares. "I used to work from 11 p.m. to 5 a.m. and then attend college at 7 a.m."
  Ramdas finished the course in two years with 80 per cent marks and bagged an interview with Mahindra & Mahindra in Pune in 1978.
  "I asked my grandmother for Rs 20 because I had no money to reach Pune. It was a big amount in those days for an old lady but she gave it to me and I could travel to Pune and get the job," says Ramdas.
  He started a wireman apprenticeship at the company for Rs 100 per month. He shared a small space with another man, a one room accommodation, and started his long journey to success. Today, Ramdas lives in a 2,000 sq ft house.
  For seven years, he continued to work for Mahindra and simultaneously did an evening course from IME (Institution of Mechanical Engineers).
  In 1984, he married Shobha and built a house for them to stay in Pune's Chakrapani Vasahat where he bought a 2,000 sq ft land for Rs 30,000. A year after this, he took up a job with Finolex Pipe Pvt Ltd as a maintenance engineer.
  In 1993, he was promoted to Deputy General Manager at a salary of Rs 35,000 but he soon resigned because of an argument with his boss. After Finolex, he got an opportunity to work for Bajaj Electrical as General Manager but there was a waiting period of three months for the final interview Rahul Bajaj.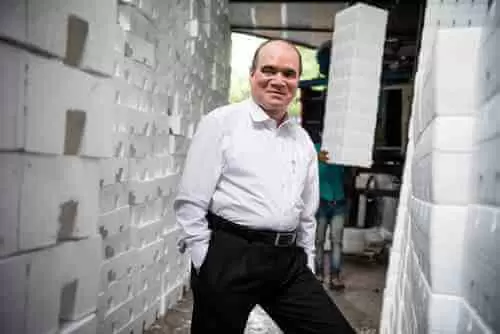 Mane holds a Limca record for making the biggest EPS machine in the world
  "I had no job for three months so I thought instead of wasting time, I will freelance," explains Ramdas. "The company Thermalite asked me to make control panels for their EPS machine and in six months I gave them six panels."
  After this successful stint, he got more contracts and soon he had a successful business running.
  Madras Beard Shell Ltd approached him to build two control panels for Rs 70,000 and then eventually gave him the contract for the whole EPS plant.
  He eventually got the Hyderabad and Bangalore plants as projects too and charged Rs 3 lakh per plant. In 1994, he registered Mane Electricals as a proprietorship firm.
  In 1997, he took a loan of Rs 5 lakh from the banks to purchase a land in Maharashtra Industrial Development Corporation, Bhosri, hired six people and set up an office.
  Word of mouth publicity meant that he soon had several contracts, including his first foreign client, a Saudi Arabia-based company Kurz, which gave him a whopping $600,000 deal. "It was a huge deal. We built a new office and plant to cater to the order," says Ramdas.
  Now Mane Electricals has clients in 45 countries, including Kenya, Dubai, Ghana, Libya, Yemen, Sudan, Sri Lanka and Saudi Arabia. He has done over 350 complete EPS projects for these clients and has a Limca record for making the biggest EPS machine in the world.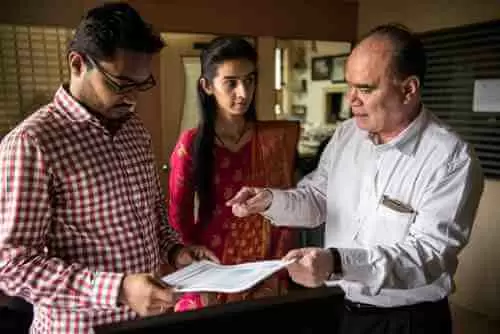 Mane has used his expertise in thermocol technology to build toilets for the poor people using this material
  The collective turnover of Mane Group of Companies – which has five subsidiary companies – for last year was Rs 25 crore. It is expected to close at Rs 30 crore for 2017-2018. "In 1995, the first year, my turnover was Rs 3 lakh," remembers Ramdas with a smile.
  Today, he is giving back to society by making portable toilets made out of thermocol and donating it to the poor people. He says he has distributed around 22,000 such toilets till date.
  Ramdas has already visited 150 countries and at times travels to more than one country in a day. It is tough to believe that there was a time when he didn't have money to purchase a bus ticket to Pune.
  This Article is Part of the 'Amazing Entrepreneurs' Series
  More Amazing Entrepreneurs
  Nanu Gupta, Founder, Vijay Sales
  Diamond Oberoi, Elgin Hotels Private Limited
sanitary napkin machine price in kolkata thermocol machine:How an ordinary electrical wireman went on to build a Rs 30 crore turnover company